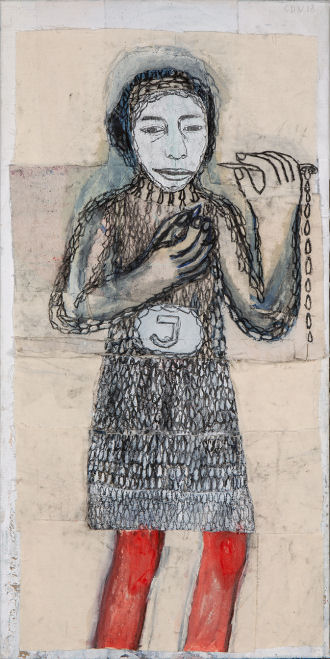 a dress (Saint Jehanne), gem. techniek op doek, 100 x 50 cm, 2018
Hesitantly she began drawing and painting the Holy Helpers, a group of fourteen saints that were especially venerated in the German Rhineland, and invoked against various diseases and ailments, although not directly against a general feeling of existential anxiety.
Six years later this humble and confined beginning has matured into a hefty series of drawings, paintings and objects. Under the appellation perpetual fear, it sketches a very diverse portrait of saintliness and its underlying humanity. Besides a personal selection from the overlong Roman Catholic calendar of saints, it features newbies (for example Aurora from Christina's previous series), wannabes (I have decided to become a saint), and has-beens (Christopher and Barbara, since 1969 dropped from the saints calendar).
This playful approach to what in traditional religion are emphatically very virtuous historical figures, who furthermore often laid down their lives in most horrendous ways as testament to their faith, can be seen as a consequence of modern skepticism, as well as insights into psychology and neurology. Saints with visions, and voices in their heads? Nowadays we will involuntarily think of hallucinations.
Christina, however, discards cynicism and takes their visions at face value. Instead she shows compassion with their tragic roles in this cruel world. Whereas traditional saints meet their gruesome fate with cloying apathy, she endows them with resilience, with swords and knives, menacing bears and dogs, even with a heartfelt fuck you. From the callousness of the massive felling of trees in her region to the unimaginable suffering in the entire world; Christina's saints have endured it all and could not stop any of it.