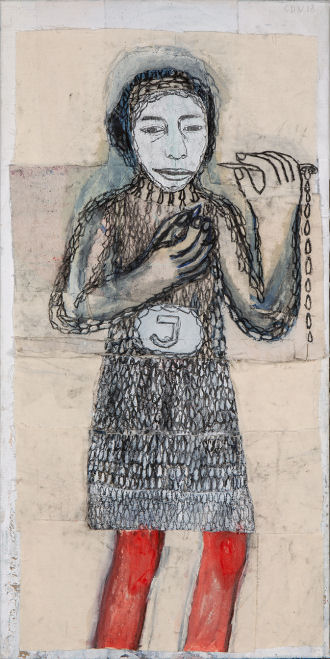 a dress (Saint Jehanne), gem. techniek op doek, 100 x 50 cm, 2018
Wat schoorvoetend op haar eerste Zeeuwse doeken kwam, waren de Noodhelpers, een groep van veertien heiligen die vooral in het Duitse Rijnland werden aangeroepen bij allerlei ziektes en aandoeningen, zij het niet direct bij bestaansonzekerheid in het algemeen.
Zes jaar later is deze bescheiden en beperkte aanzet uitgegroeid tot een lijvige serie tekeningen, schilderijen en sculpturen die onder de noemer perpetual fear een zeer divers portret schetst van heiligheid en de achterliggende menselijkheid daarvan. Naast een persoonlijke keuze uit de ellenlange katholieke heiligenkalender, omvat zij een flink aantal newbies (zoals Aurora uit Christina's vorige serie), wannabe's (I have decided to become a saint) en hasbeens (de in 1969 van de Roomse kalender afgevoerde heiligen Christophorus en Barbara).
Dit gespeel met wat in de traditionele religie zonder meer zeer deugdzame historische personages zijn, die meestal ook nog op gruwelijke wijze voor hun geloof zijn gestorven, zou je kunnen zien als een uitvloeisel van moderne scepsis, alsmede inzichten op het gebied van psychologie en neurologie. Heiligen die lijden aan visioenen of stemmen in hun hoofd? Wij denken dan als vanzelf aan waanbeelden.
Christina's heiligen laat zij echter zonder cynisme in de waan; in plaats daarvan toont zij medeleven met hun plaats in deze meedogenloze wereld. Waar traditionele heiligen geacht worden passief en zelfs zoetsappig hun wrede lot tegemoet te gaan, daar geeft zij hen weerbaarheid, met messen en zwaarden, vervaarlijke honden en beren, een hartgrondig fuck you. Van de harteloze massale bomenkap in Zeeland tot aan het onvoorstelbare wereldleed: Christina's heiligen hebben het allemaal ondergaan en niet kunnen voorkomen.
the horse (Palden Lhamo), gemengde techniek op doek, 21 x 26 cm, 2018